Tooth loss can have both a physical and psychological impact on you. If a gap is left in your teeth for too long, it can begin to affect your jaw and other teeth. But, it also can affect how you feel about your smile. With dental implants, you can restore lost teeth and have a smile you can feel confident in.
At Star Dental Group, we provide several options for addressing tooth loss. Our expert dentists work with you every step of the way, making sure that your treatment plan best suits your needs. We also offer a range of cosmetic and general dentistry services to provide for the needs of the Rancho Cucamonga community.
What Are Dental Implants?
Dental implants (also called teeth implants) are metal posts or frames that are usually made of titanium. They are used as the support for a replacement for a lost tooth. For most patients, implants are meant to be a permanent solution to tooth loss, with some implants lasting 25 years or more if cared for properly.
The goal of a dental implant is the restoration of a missing tooth, helping to stop or prevent jaw bone loss along the way.
The metal post is surgically positioned into the jawbone beneath your gums when performing this teeth replacement procedure. As a result, it fuses with your jawbone, providing a stable anchor point for your replacement tooth.
The actual replacement for your tooth is called a crown. The dental crown is attached to the implant, creating a durable and long-lasting new tooth for you. Each dental crown is custom-made to match the shape, size, and color of your natural teeth. This means your smile will not only be full once again but will also look entirely consistent.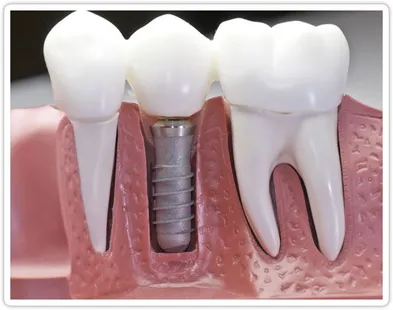 Benefits of Dental Implants
Though dental implants are considered as part of cosmetic dentistry, they have many benefits. Once you receive your implant, you'll notice improvements in any of these following areas:
Appearance: No more gaps in your smile
Speech: Having more teeth makes things easier on your speech organs
Comfort: Balance and symmetry are restored
Easier eating: More teeth means more power to chew
Self-esteem: An improved smile means you can share it with the world
Oral health: Prevent bone loss and keep neighboring teeth healthy
Durability: Implants are permanent and will stand by you over the years
How Long Do Implants Last?
Implants are more robust than natural teeth and generally last 10-20 years. If you take exceptionally good care of them, they may last even longer. We will provide you with a full list of care instructions for your new implants.
Just like your natural teeth, you will need to brush and floss. A dental implant may be sturdy, but neglect can shorten their lifespan. The good news is that caring for implants is just about as easy as caring for your other teeth.
Are Dental Implants Right for Me?
To receive implants, you need to have healthy gums and adequate bone to support the implant. During your appointment, we will work with you to determine if you are ready for implants. If you need additional bone structure, you can consider receiving a bone graft first to help you build your jaw support.
For many, implants are a more favorable approach for many than dental bridges. The reason being that they do not depend on neighboring teeth for support. However, dental bridges might be a better option for patients who need to replace multiple neighboring teeth or whose jaw bone isn't sufficient for implants.
If you have suffered the loss of multiple teeth, ask about the option for implant-supported dentures. They are much more stable and convenient than traditional dentures.
Same-Day Teeth Implants
Typically, dental implants are a two-part procedure. First, the metal rod is installed. While you heal, we send impressions of your teeth to a dental laboratory to create your custom crowns. During this time, you may have a temporary crown over your implant. Once the crown is complete, you come back in to install it on the implant.
However, we also offer the option for same-day dental implants. We understand that your time is valuable, and you might need a quicker solution. Contact us to learn more about same-day options.
Dental Implants Rancho Cucamonga
Star Dental Group is proud to be known as home to some of the best dentists in Rancho Cucamonga. We are passionate about providing top-quality treatments and services that bring the best out of our patients' smiles.
If you have experienced tooth loss, the sooner to address it, the better the outcome will be. Don't hesitate to contact us to learn more about what treatment options are available for you. We are glad to answer any questions or address any concerns you might have. Contact us to schedule a same-day dental appointment or speak with a dentist today.